Where Tradition Meets Expertise
The Plum Grove Shop is renowned for its blend of old-world craftsmanship with modern technology and innovative techniques.  Our technicians and luthiers service instruments and bows for our clients and other national shops.
Stephen Paynter, our shop director, plays brass in a professional ensemble and is in demand as a wind repairman.  As a member of the National Association of Professional Band and Instrument Technicians (NAPBIRT), he leads our band and string repairs workshop.
Santino Maulucci has rehaired hundreds of bows and gives every instrument that crosses his bench the care and attention to detail of an experienced luthier.  He is also a gifted vocalist and instrumentalist.
Keelie Gilbert, a fine cellist, maintains our rental fleet and specializes in varnish restorations for our customer's instruments.  Keelie is extremely knowledgeable about our products and is amazing at connecting the player with the right instrument and bow.
When not at the bench, our owner, Rick Thacker, a Chicago School of Violin Making graduate, handles appraisals and teaches our shop apprentices, passing on the centuries-old craft of luthiery to the next generation.
We Offer Free Estimates & Consultations
Plum Grove offers a full range of bow services to many players worldwide.  A good bow Re-Hair is extremely difficult, and individuals trained in this art are rare.  For this reason, several shops around the nation send all of their bow work to our workshop here in Northwest Indiana.
Our luthiers are excellent in replacing bow hair, tips, grips, silver windings, and eyelets.  Virtually anything your bow needs, we can help with!  As a service to all teachers, we offer complementary bow repairs.  This is just how we say "thank you" for all you do!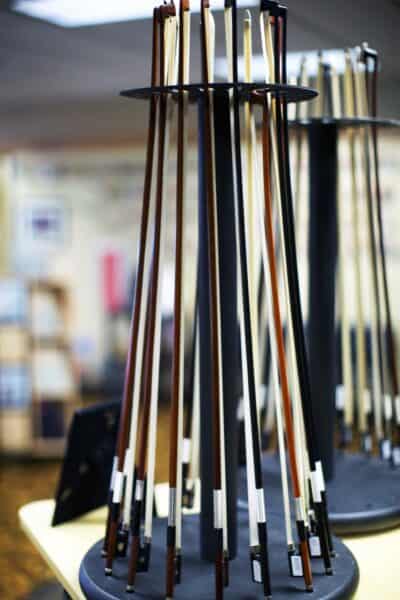 Meet Our Repair Specialists
As musicians, we understand just how important it is to have your instrument in its best condition. We have a team of experienced repair specialists here to ensure that your instrument looks great and sounds better.  Whether you simply need your instrument tuned or fully overhauled, we are here to help.